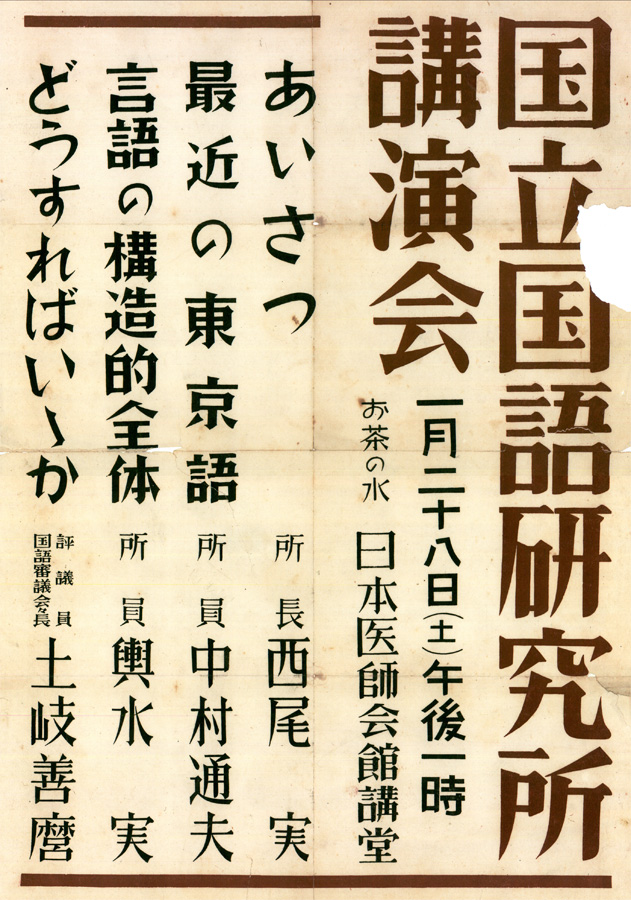 Since its establishment, the Institute has endeavored to make its research results public. Aside from publishing research reports, it has created opportunities for scholarly exchange. On January 28, 1950 (Showa 25), just over one year after its establishment, it held its first public lecture.
When the Institute was transferred to a government building in Nishigaoka (then Inatsuke Nishiyama-cho) in 1962 (Showa 37), an " Unveiling Event" was held, and the Institute was opened to the public on that day. On that occasion, the Institute made efforts to convey its research results to visitors through poster displays, explanations by staff members, etc.
In recent years, the Institute has prepared and distributed a "New Kotoba Series" booklet and a "Kotoba Video" every year. These provide suggestions and materials for people who would like to study the language on their own and enrich their language life.
Institute staff members sometimes also appear in the media (newspapers, television and radio) to answer questions about language from readers and viewers. You may have seen us somewhere.