Shin Kotoba Series (New Kotoba Annual)
NOTICE: There are no plans for future publication.
Shin Kotoba Series (New Kotoba Annual) provides a selection of popular and widely discussed topics on Kotoba (language or word). It provides readers with a precise, but simple commentary by the language specialists. In order to provide complete and comprehensive commentary, the Shin kotoba Annual zooms into each topic from 4 facets, "Essay", "Discussion", "Q&A Ⅰ" and "Q&A Ⅱ". In addition, Shin Kotoba Series is intended as a reference material for discussion and like, but not as a guide of correct language usage. We sincerely hope that this series will help stimulate discussion on Kotoba in every day life.
Previous Issues
New Kotoba Annual 22: 'The World of Dictionaries'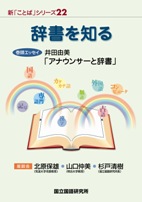 Essay: Yumi Ida
Discussion: Yasuo Kitahara, Nakami Yamaguchi, Seiju Sugito
Commentary / Column / References
Edited by The National Institute for Japanese Language
Printed by Gyosei Corporation
Issued in March, 2009
A5 size, 128 pages
500 yen (including tax) + shipping fee 210 yen (domestic inside Japan)
New Kotoba Annual 21: 'Honorific Expressions in Our Daily Life'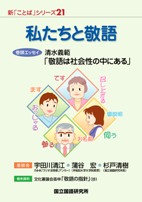 Essay: Yoshinori Shimizu
Discussion: Kiyoe Udagawa, Hiroshi Kabaya, Seiju Sugito
Question Box on Kotoba Ⅰ (7 questions)
Question Box on Kotoba Ⅱ (16 questions)
Column / References
Edited by The National Institute for Japanese Language
Printed by Gyosei Corporation
Issued in March, 2008
A5 size, 128 pages
500 yen (including tax) + shipping fee 210 yen (domestic inside Japan)
New Kotoba Annual 20: 'Written Language and Society'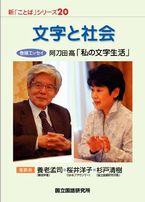 Discussion: Takeshi Yoro, Yoko Sakurai, Seiju Sugito
Commentary: Kanji in broadcasting / Characters in textbooks / Characters in public services
Q&A on Kotoba (15 questions)
Kobota and Society / References / Columns
Edited by The National Institute for Japanese Language
Printed by Gyosei Corporation
Issued in March, 2007
A5 size, 112 pages
500 yen (including tax) + shipping fee 210 yen (domestic inside Japan)
New Kotoba Annual 19: 'Loan Words and Modern Society'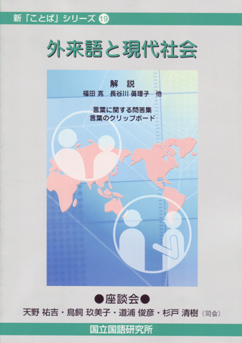 Discussion: Yukichi Amano, Kumiko Torikai, Toshihiko Michiura, Seiju Sugito
Commentary: The aim of "suggesting paraphrasing loan words" / Loan words in the modern society / Loan words in the newspapers / The words that transmit scientific knowledge
Q&A on Kotoba (17 questions)
Kotoba Clipboard / References / Columns
Edited by The National Institute for Japanese Language
Printed by National Printing Bureau
Issued on March, 2006
A5 size 128 pages
483 yen (including tax)
New Kotoba Annual 18: 'Kotoba for Communication'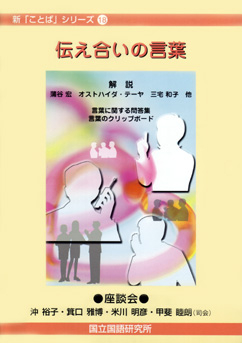 Discussion: Hiroko Oki, Masahiro Miguchi, Akihiko Yonekawa, Mutsuro Kai
Commentary: Relating to people through words / Ideas in communication when using 'phrases leading to action' / Communication within different relations / 'Communication' via various media
Q&A on Kotoba (17 questions)
Kotoba Clipboard / References / Columns
Edited by The National Institute for Japanese Language
Printed by National Printing Bureau
Issued on March, 2005
A5 size 128 pages
483 yen (including tax)
New Kotoba Annual 17: 'What is "Correctness" of Kotoba?'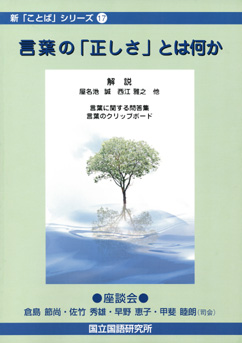 Discussion: Tokihisa Kurashima, Hideo Satake, Keiko Hayano, Mutsuro Kai
Commentary: What is the 'correctness of Kotoba' / Regional and Generational discrepancies in correctness of Kotoba / Kotoba correctness in daily life / Kotoba correctness in educational setting / 'Correctness' of Kotoba in the world where 'Grammar Guide' does not exist
Q&A on Kotoba (18 questions)
Kotoba Clipboard / References / Columns
Edited by The National Institute for Japanese Language
Printed by National Printing Bureau
Issued on March, 2004
A5 size 128 pages
483 yen (including tax)
New Kotoba Annual 16: 'Regional Differences in Kotoba — The Current Status of Dialects'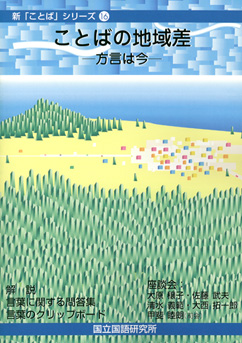 Discussion: Jyouko Ohhara, Yoshinori Shimizu, Takeo Sato, Takuichirou Ohnishi, Mutsurou Kai
Commentary: Regional differences in Kotoba ? the current status of dialects / The diversity of regional differences in Kotoba / Ever changing regional Kotoba / Regional Kotoba and 'Kotoba education' / Looking into the dialects
Q&A on Kotoba (18 questions)
Kotoba Clipboard / Columns
Edited by The National Institute for Japanese Language
Printed by National Printing Bureau
Issued on March, 2003
A5 size 128 pages
460 yen (excluding tax)
New Kotoba Annual 15: 'Looking at Japanese from the Outside'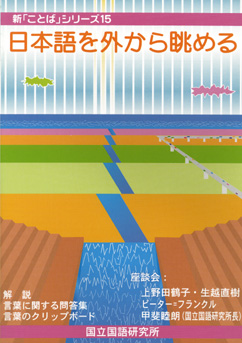 Discussion: Tazuko Ueno, Naoki Ogoshi, Peter Frankl, Mutsuro Kai
Commentary: Is Japanese difficult? / Learning and teaching Japanese / Communication with 'foreign culture' / Japanese spoken overseas
Q&A on Kotoba (18 questions)
Kotoba Clipboard / Columns
Edited by The National Institute for Japanese Language
Printed by National Printing Bureau
Issued on May, 2002
A5 size 128 pages
460 yen (excluding tax)
New Kotoba Annual 14: 'Q&A on Kotoba-Frequently Asked Questions'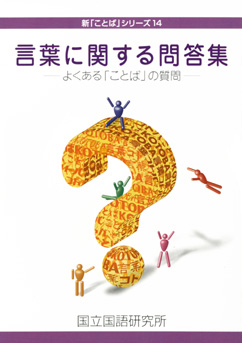 Q&A: What do you do in 'Kotoba' research? And 29 other questions included.
References: Suggestion of Japanese phrases for the foreigners in emergencies / The reality of foreign language usage in documents such as white books and newspapers / 'Window to the National Institute of National Language', Q&A (repeated publication)
Edited by The National Institute for Japanese Language
Printed by National Printing Bureau
Issued on June, 2001
A5 size 96 pages
360 yen (excluding tax)
New Kotoba Annual 13: 'Examine and Consider "Kotoba"'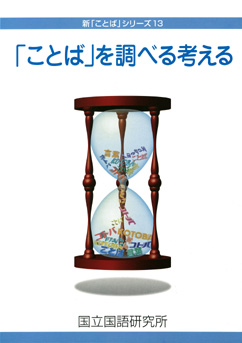 Discussion: Yoshiyuki Kimura, Kunio Fukuda, Seiji Miyazawa, Natsue Washizu, Mutsuro Kai
Commentary: Grammar Studies —the patterns in kotoba— / Examining the language actions —action of repetition— / Diversity of Kotoba —research based on population studies— / Making a dialect usage chart —Case study of the Ohyama Dialect in Tsuruoka City— / Studying the history of words —Case study on 'tanagokoro'— / Kotoba and experimentations
Edited by The National Institute for Japanese Language
Printed by National Printing Bureau
Issued on June, 2001
A5 size 96 pages
360 yen (excluding tax)
New Kotoba Annual 12: 'Q&A on Kotoba — Choosing the Right Word'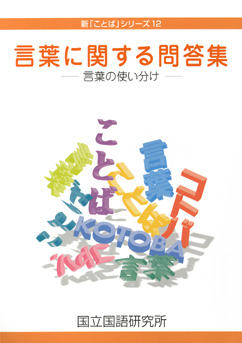 Q&A: What is meant by 'choosing the right word' — And 29 other questions included.
References: Multidisciplinary research on Japanese language in the international community / Questionnaire-based research on diversity of Japanese language / Vocabulary research on TV broadcasts
Edited by National Language Research Institute
Printed by National Printing Bureau
Issued on July, 2000
A5 size 96 pages
360 yen (excluding tax)
New Kotoba Annual 11: 'For the Rich Language L'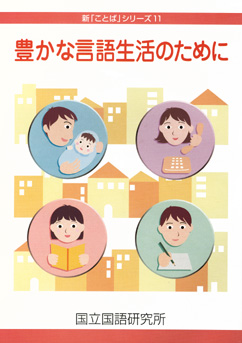 Discussion: Nobuko Uchida, Masataka Jinnouchi, Yoshiaki Hashimoto, Mutsuro Kai
Commentary: What is Kotoba? —for human and for their life— / Thinking about the 'schematics of Kotaoba' / Words and daily life / Diversity within Japanese language / Conversations in the class room
Edited by National Language Research Institute
Printed by National Printing Bureau
Issued on July, 2000
A5 size 96 pages
360 yen (excluding tax)
---